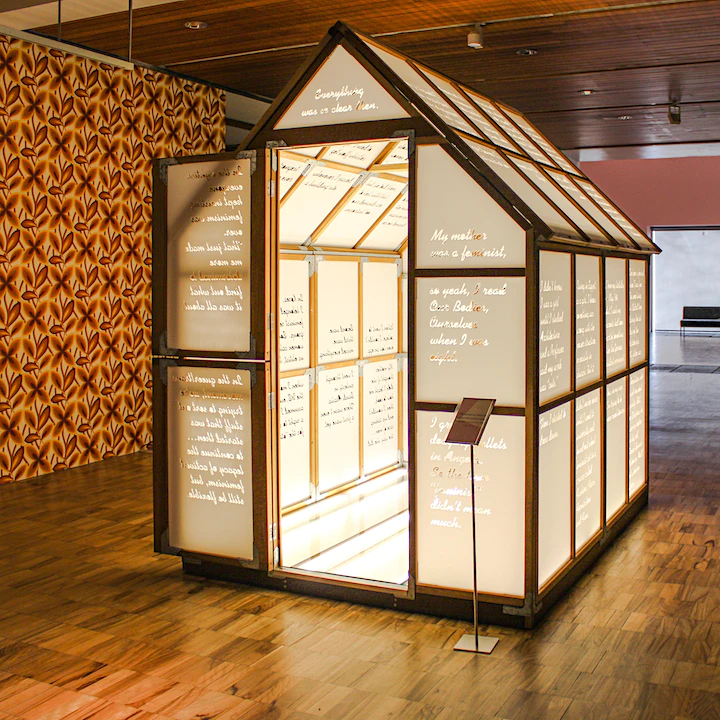 Categorised: Art and the Women's Movement in the UK 1970–1988
---
A free drop-in discussion to hear about the artwork Multi-Story House (2007) by Mary Kelly and Ray Barrie, currently on display at the Whitworth, as part of our new research group exploring connections between art and the women's movement.
The walls of Multi-Story House are inscribed with intergenerational reflections on the women's movement, gathered together by Mary Kelly, a leading thinker in contemporary art and feminism since the 1970s.
The event will begin with an introduction to Multi-Story House and the aims of the research group. We then invite you to share stories about your connections to the women's movement in an informal group conversation.
This event is open to all. Tickets are free but booking is required. You can book your ticket via Eventbrite.
The venue has the following access provisions:
wheelchair accessible
accessible toilets
gender-neutral toilets
quiet room
continual signposting of the agenda during events
alt text for all digital images (on websites, social media, documents)
Image: Mary Kelly and Ray Barrie, Love Songs: Multi-Story House, (2007). Courtesy of the Whitworth, The University of Manchester